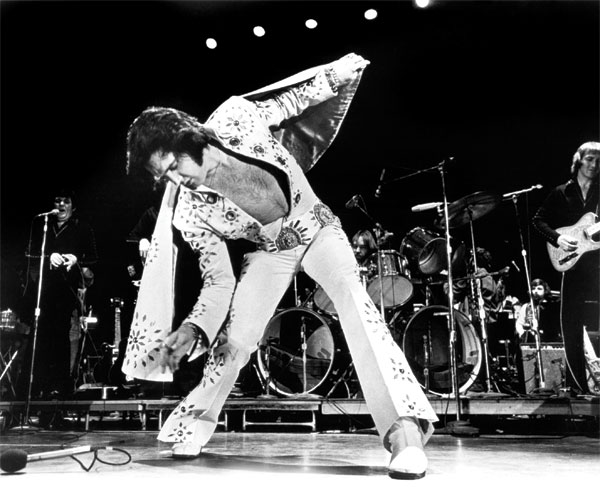 August 1970, the Grand Ballroom of the Las Vegas Hilton. The lights are going down. Out of the darkness comes a torrent of drums, a guitar riff, a piano and eight background singers clapping in tent-revival rhythm. Elvis Presley appears from the wings, throws his shoulders around and flashes a photon beam of charisma. The world's most coveted head of male hair flops across his forehead. As he starts to sing "That's all right mama," the crowd goes nuts. It's more than all right. The 35-year-old superstar has made a triumphant return to live performance.
When he first hit in 1955, Elvis was like an H-bomb on shaky legs. In 18 months, he went from hillbilly singer to the biggest star in America, with a parade of No. 1 hits such as "Heartbreak Hotel," "All Shook Up" and "Jailhouse Rock." Along the way he upended our entire pop culture—from music to fashion to attitudes about race and sexuality.
By the early 1960s, Elvis was lured to Hollywood as aspirations of movie stardom replaced his desire to be the king of rock 'n' roll. But he got trapped in a succession of inane films—the result of years-long manipulations of his notorious manager, Colonel Tom Parker. Finally, in 1968, Elvis had enough. In that landmark year, he reasserted himself in the televised '68 Comeback Special, a new album, From Elvis in Memphis—and his first chart-topper in seven years, "Suspicious Minds."
"I lost my musical direction in Hollywood," Elvis told reporters on the eve of his return to live performance in Vegas the following year. "My songs were the same conveyer-belt mass production, just like most of my movies. Now I'm back and on the right road."
His traveling companions on the road to the Hilton were a group of ace musicians, including Glen D. Hardin (piano), James Burton (guitar), Ronnie Tutt (drums) and Jerry Scheff (bass). This is the band that would ride with the king from his initial return to the stage in Vegas until his drug-addled last performances in 1977.
Best of the Best
Elvis had reunited original backup band members Scotty Moore and drummer D.J. Fontana for the '68 special, but the old hands were eased out for the Las Vegas shows in favor of young guns with more skill and flash. Moore and Fontana—along with bass player Bill Black—had been with Elvis when he began recording at Sun Studios in Memphis in 1954, but the new players were carefully selected from among the best live and session musicians in the business.
Preparing for Elvis' new live show was an impressive undertaking. Luckily, Elvis and his new band clicked immediately.
"We rehearsed probably 200 songs," says Jerry Scheff. "When we played them with him, it wasn't like a rehearsal. It was more like we were just having fun, like jamming almost."
A San Francisco hippie with jazz and classical training, bassist Scheff had contributed to hundreds of west coast pop sessions, from Neil Diamond to Linda Ronstadt.
"The old songs from the '50s, Elvis turned those into medleys, and we'd race through them," Scheff says. "He put them in because he had to, but he squashed them down to the least time possible. He wanted to be taken more seriously by critics. That was his vision—to ease out of the rock 'n' roll business and become known more for what he considered more adult-type stuff."
Glen D. Hardin agrees. "Elvis was convinced that he was probably the best rock singer in the world, but he came to a point where he wanted to be Perry Como."
Hardin, a Lubbock, Texas native, cut his teeth with Buddy Holly's group, the Crickets, then after a stint in the Navy, joined the house band for the mid-'60s TV music program Shindig! There he taught himself the arranging skills that he'd use to give much of Elvis' live work in the '70s its pomp and circumstance.
"I could make the arrangements pretty busy because he was such a powerful singer," Hardin recalls. "A lot of the stuff for the Vegas show, he'd tell me the song, then say he wanted it the next day. Sometimes it was more than one. A lot of it, I did without ever consulting him. When I got it all together, I'd usually stop by his dressing room before we went on, and I'd play it for him. It was loose."
"In rehearsals, and on stage, Elvis keyed off the guitar," says James Burton. "We had great eye contact. He loved guitar. If I'd play a lick or something, he would just turn around and say, 'Yeah, baby!' It was a great communication that all of us had."
Burton had first caught Elvis' eye as a member of Ricky Nelson's band on the weekly TV show The Adventures of Ozzie & Harriet. As the chickenpickin' axeman rose to the top of the L.A. session scene, Elvis kept tabs on him. He knew the day would come when they'd work together.
Rookie drummer Ronnie Tutt, another Texan, had played with Western swing bands and symphonies before joining Elvis' band. "I've always said it was like working for a stripper in the old days of vaudeville," Tutt says. "The drummers and musicians had to watch every move the stripper made to accent it with their instruments."
With so many songs at his disposal, Elvis rarely followed a set list. "You never knew which way he was going to go on stage," Burton says. "He could change at any moment. He'd say, 'James, give me an E.' Then he'd go into whatever song he had in his mind."
"He'd play stump the band," Hardin says. "He'd try to find little ways to pull something on us. I don't think he ever did because we were watching him so closely. We were playing the Forum in L.A. one time, and he was about as far away from me on stage as he could possibly be. He bent down to kiss a girl and I guess she whispered in his ear, 'Do "Blue Christmas."' As he raised back up, he went right into it. Now there's only three eighth notes as pick-up notes. 'I'll have a … ' and the whole band came in. It was things like that, non-stop. He was always very appreciative that we were right on top of him."
Says Tutt, "As time went on, he would use more and more karate moves, to cut off songs and during songs, where there'd be musical interludes or solos. Because they're almost quicker than the eye, those moves, I felt like there was only way for me to really understand them. And that was to study the same form of karate as he did. We'd have lessons and workouts up in his suite. It helped me a great deal to understand how he moved."
Scheff takes the idea of bodies moving in sympathy even further. "When you play music with people, especially when the concentration is that focused, it's probably the most intimate relationship with other human beings, outside of sex. You may not even like each other off stage. But when you're up there, it's a wavelength. Elvis liked that and he understood that."
Elvis the Comedian
The intensity was balanced out with practical joking. For all his iconic status as the king of rock 'n' roll, Elvis often acted more like a jester on stage—and off.
"He was always coming up with something silly," says Hardin. "Once he introduced me and said, 'You know, somebody told me the other day that the D in your middle name stands for Dolores. Is that true?' I said, 'Why, hell no!' He said, 'I think it is. I was told by somebody who ought to know.' He just went on and left it at that.
"He'd do imitations too. He did Engelbert Humperdinck and Tom Jones real good. He could do Billy Eckstine, Dean Martin a bit, even Moms Mabley."
"He would sing happy birthday to me a lot," Burton says, "even if it wasn't my birthday."
Scheff says, "One night, he brought one of those little battery operated laugh boxes on stage and said, 'Ladies and gentlemen, I'd like you to meet Colonel Parker.'"
"As far as the humor is concerned," says Tutt, "Elvis, as much as anybody I've ever known in my life, loved to laugh. He was a very emotional man when it came to that. He didn't hesitate to laugh or cry. His whole life was built around trying to find humor in things."
Troubled Waters
Over time, the music and practical jokes weren't enough to keep Elvis from sliding into depression and drug use, especially after his divorce from Priscilla Presley in 1973.
"He had clinical depression, a chemical imbalance," says Scheff. "Now they can treat that. Back then, they didn't have the tools. They didn't even have the tools to recognize it."
"A lot of what happened to him in Vegas is he was like a caged animal," says Tutt. "We were there two shows a night, three on the weekends, five to eight weeks at a time. He was such a free spirit, it was hard to contain him. It was a big hotel, but it was like a gilded cage."
Hardin says, "I wish I could've talked to him about taking drugs. He was one of those who believed that if you get them from a doctor, it's OK. But the truth is, Elvis didn't take advice. He was my friend and he liked me very much, but I don't think he would've took any advice. That would be a real quick way to find yourself out the door."
"At the time, I didn't have any worries about Elvis' health," Tutt says. "He could be off for a long period of time, and he might look out of shape when we'd start rehearsing. But by opening night, he'd be Elvis Presley. He was very resilient. It's just like a prizefighter. You get a little out of shape, but you have a big fight to do and you get in shape. Elvis always needed that big fight to get in shape for."
What Might Have Been
All the musicians agree that the big fight that might've saved Elvis was a world tour. During the '70s, he toured America, but never beyond the 50 states (his 1973 TV special Aloha from Hawaii was a vicarious substitute, beamed worldwide via satellite). The reason that Elvis never performed outside of the U.S. was that Colonel Parker, née Andreas Cornelius van Kuijk, was an illegal alien. To fly out of the country would risk not only being exposed but barred re-entry.
"Elvis wanted so bad to go to Europe and to Japan," says Burton. "He was looking forward to it, even in the year or so before he died. He felt that these people always came to him from around the world to see his shows, and he felt like it would be great for him to go over there and present his show to them in their country."
"If Colonel Parker had let him follow his idea to become a more serious artist, things might've been different," adds Scheff. "Elvis had a lot of pressure put on him by the Colonel and by fans to do the old stuff. I've worked with a lot of people, like Bob Dylan—and Bob has always been able to change, like a chameleon. He didn't care what the fans thought. He didn't care what his manager thought. Elvis wasn't able to say, 'Listen, screw you. I'm doing it my way.' That more than anything else was one of the reasons he got so depressed."
In the end, when these players talk about their time with Elvis, it's overwhelming how much they loved and respected him.
"I'm sure I expressed how much I enjoyed working with him, but he wasn't one to sit around and let you pat him on the back," Hardin says. "If you said, 'You're the greatest,' he would've probably said, 'Well, I'm doing pretty good for an old country boy.'"
"I don't think I ever told Elvis how much I admired him as a singer," says Scheff. "Back then, everybody was being cool. I regret that now. I don't even have an autograph, because I was being too cool. I think if I'd asked him for his autograph, it might've pleased him."
Burton concludes, "Elvis didn't know how great he was. He never came off like, 'I'm the king of rock 'n' roll.' As a matter of fact, there were many times on stage when people yelled out, 'Elvis, you're the king!' And Elvis would say, 'No, I'm not the king. God's the king.'"
—by Bill DeMain
Rare stories from the band who backed Elvis Presley in his final years: Glen D. Hardin, James Burton, Ronnie Tutt and Jerry Scheff. Also included are some thoughts from Elvis' back up singers (Kathy Westmoreland, Millie Kirkham, Myrna Smith and Joe Moscheo) as well behind the scenes of Elvis' studio sessions at Nashville's RCA's Studio B in the 1970s. (From Sept/Oct 2006, Issue 96, 5 pages)
Hi-Res PDF Price: $0.99
[cart-button item="EPB-96″ showprice="no" ]
Category: Best of PS, In Case You Haven't Heard