"Every time I put the radio on, it's 'Oh My Lord,'" John Lennon said in December 1970. "I'm beginning to think there must be a God."
Lennon wasn't alone. As his former bandmate George Harrison's debut single blanketed the airwaves, a struggling New York publisher, Bright Tunes Music, must've heard divine intervention in the melody of "My Sweet Lord." It was identical to a chestnut in their dusty catalog, "He's So Fine."
On Feb. 10, 1971, as Harrison's hit was idling down from four weeks at No. 1, Bright Tunes filed a copyright infringement suit.
The older song, written by Ronnie Mack, had been a chart-topper in 1963 for the Chiffons. That same year, the Beatles were routinely singing the praises of such American R&B tunes, both in interviews with the British press and in the set lists of their live show. There was no question of access to the previous work, as Harrison freely admitted during his trial.
But the Chiffons weren't on his mind in 1969, when he picked up his guitar and started singing the word "Hallelujah" over a two-chord progression. "I was inspired by the Edwin Hawkins Singers' version of 'Oh Happy Day,'" Harrison said.
If anything gave him pause about his song-in-progress, it was the mention of God in the lyric. "I thought a lot about whether to do that, because I would be committing myself publicly and I anticipated that a lot of people might get weird about it."
Apparently, no one in Harrison's inner circle got weird about the obvious similarities of his new song to "He's So Fine." Maybe the fear of calling a Beatle a thief was stronger than the need to tell the truth.
Harrison gave the song to keyboardist Billy Preston for his debut single on Apple Records, but the release was withdrawn in September 1970. Two months later, Harrison's version—produced by Phil Spector (surely the Titan of Teen detected plagiarism)—was released as the lead-off single from his triple-album debut All Things Must Pass.
"I wasn't consciously aware of the similarity when I wrote the song," Harrison said. "But once it started to get a lot of airplay, people started talking about it, and it was then I thought, 'Why didn't I realize?' It would have been very easy to change a note here or there and not affect the feeling of the record."
Harrison tried to settle out of court. His manager Allen Klein even offered to buy Bright Tunes' entire catalog. But the publisher dug in, insisting that Harrison should surrender his copyright. A four-year stalemate ensued, during which Bright Tunes went into receivership for unrelated business problems.
The case finally came to trial in February 1976. Side by side, the two songs were painstakingly analyzed. "The plaintiff had huge charts made up with the three notes from Motif A and the four or five notes from Motif B drawn on them," Harrison recalled. "And they talked about these for about three days, to the point where I started to believe that maybe they did own those notes."
In the end, Harrison was found guilty of "subconscious plagiarism" and had to pay $1,599,987 of the earnings from "My Sweet Lord" to Bright Tunes (songwriter Ronnie Mack had died in 1963, shortly after "He's So Fine" charted). "I've never had any money from the song," Harrison later recalled. "It's always been in escrow. As far as I'm concerned, the effect the song has had far exceeds any bitching between copyright people and their greed and jealousy."
There was a happy ending for Harrison, sort of. The headaches of the litigation inspired him to write "This Song," a single which went to No. 25 in 1976.
—By Bill DeMain
For the full article on artists who faced copyright infringement cases: You Stole My Song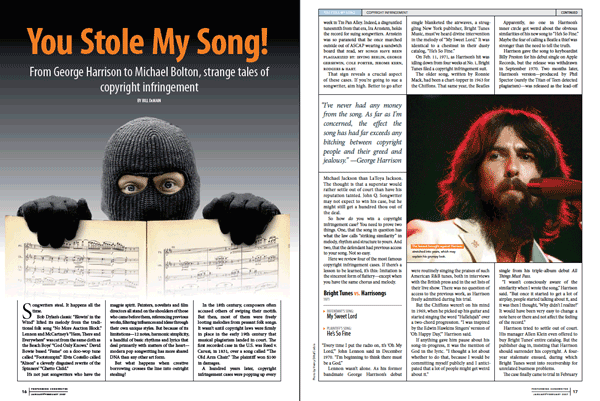 Category: In Case You Haven't Heard